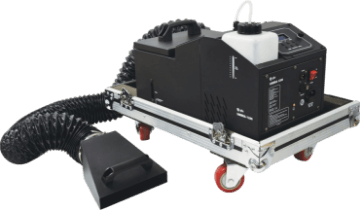 Using a combination of smoke fluid and water vapour, our low smoke machines will cover a dancefloor or stage in a dense blanket of white fog.
Whether you're looking for the effect of dancing on cloud nine for your first dance, to add a mystical touch to a theatre production or to create an atmospheric musical performance, our low smoke machines offer an easy, repeatable and controllable solution.
Using the on-board control panel, you can select the density of the smoke and the strength of the fan to create the desired look with ease. With the flexible hose, you can direct the effect exactly where you need it.
Once set, you can switch the effect on and off as required for on-cue smoke, time after time.
If you need to control the unit remotely, connect to a DMX desk and control each parameter independently.