Nowadays, confetti comes in many shapes and sizes, with a multitude of cannons and launchers available to create elaborate cascades of colour. So which confetti is best and what do I need to create the perfect confetti photo?
Traditionally, confetti is thrown over the bride and groom as they exit the ceremony. We recommend handing boxes or cones to your guests. This ensures that everyone has enough and it matches your colour scheme.
To make a bigger impact, impress your guests and fill the air, handheld confetti cannons are simple to use and highly effective.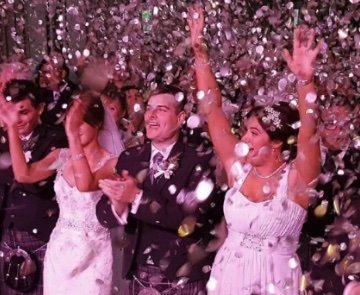 Weddings are all about people, so why not ask your bridesmaids and ushers to get involved and fire the cannons for you? We will custom fill the cannons to match your wedding colour scheme and offer a wide range of biodegradable confetti options for use both indoors and out. Customised cannons start from £6.95 each plus P&P.
The first dance is the next most popular moment. With all eyes on the happy couple, a colourful burst of confetti creates the perfect end to your dance and signals to your guests, it's time for them to join you on the dance floor.
But why leave it there? There are plenty of other opportunities throughout the day; streamer cannons to mark your arrival at the reception, heart confetti cannons as you cut the cake and glitter cannons for a sparkling send-off as you leave the reception at the end of the night.
It all depends on the effect you want and the size of the venue.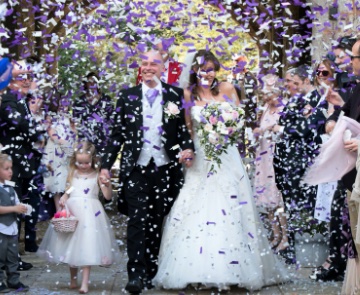 The most popular cannons to create a real surprise are our remote-control confetti cannons. They are fully wireless and battery powered, so there is no need for any cables. Simply set them in position and push the button on the remote control for a stunning burst of confetti to thrill your guests and create the perfect photo opportunity. Prices start from £120 + vat for a pair of cannons including delivery and collection.
Place the cannons either side of the DJ or band, with the barrels aimed up and over the dance floor. On the push of a button, confetti is fired up to 12 metres to cover you and your guests in a beautiful display of colour.
Extra confetti cartridges are available so you can reload the cannons and repeat the effect for the final, floor-filling, end of night anthem.
A burst of confetti never fails to get people up and dancing, so if you would like multiple shots but don't want to reload the cannons during the evening, our multishot cannons are the perfect solution.
Available in 4 shot or 8 shot versions and supplied in pairs, simply hand the remote control to the DJ for floor-filling confetti shots throughout the night. Prices start from £340 + vat for the 4-shot system and £510 + vat for the 8-shot, including delivery and collection.
You do need a reasonably big venue and the higher the ceiling the better, as the confetti will take longer to fall. A marquee, barn or hotel conference suite should all be fine.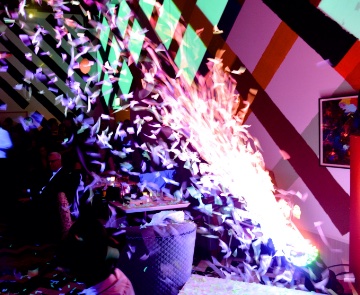 When you have limited space or would like a more sustained cascade of confetti, our LED Confetti Fountains will do the job effortlessly. Gently lifting a cloud of confetti into the air for 30 seconds, they create a softer effect than the cannons and the confetti will flow around your venue whether you have a low ceiling or you're in a tipi.
A ring of lights around the top of the machine illuminates the confetti as it rises into the air, creating a beautiful sparkling effect when used with glitter confetti. Prices start from £150 including delivery and collection.
If your venue has the means to suspend equipment from the ceiling above the dance floor, a Swirl Fan will create a silent cascade of confetti for up to 8 minutes – or multiple times throughout the evening reception.
Once you've decided on the best confetti launcher for you, next you need to choose the confetti. We stock a wide range of eco-friendly confetti options for dazzling results both indoors and out.
Biodegradable tissue confetti comes in 19 colours and can be mixed in any combination to create the perfect match for your colour scheme.
To add some glitz to the glamour of the occasion, BioGlitter is the first biodegradable metallic confetti that is safe to use outdoors or in a marquee. It also provides an eco alternative to traditional plastic metallic confetti when used indoors.
Some wedding venues are reluctant to permit confetti. Water soluble BioFetti offers a solution for sensitive outdoor sites as its dissolves and washes away in the first rain. For a faster clean-up, simply turn on the hose.
BioFetti is not suitable for use in rain or wet conditions as it will start to dissolve in mid air.
Tissue confetti and BioGlitter are both made from paper that is 100% biodegradable. The time it takes to disappear depends on Mother Nature. With a little wind and rain, it will be gone in no time at all, but in dry conditions it will take longer. It won't vanish overnight but rest assured, it will disappear and leave no trace.
If you need a faster clean-up, use a hose and BioFetti will melt away before your eyes. Even real petals won't vanish that quickly!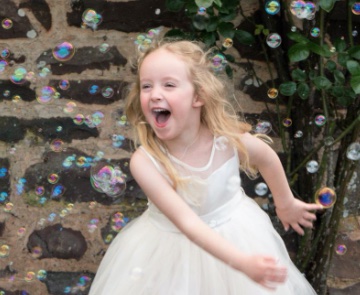 Confetti Magic has experienced crew on hand to add a wealth of other spectacular special effects to your wedding to make it a truly memorable occasion. We have Gas Torches to illuminate driveways and paths, Gas Flambeaux to mark the entrance to the venue and present your guests with a warm welcome to the reception, Bubble Machines - great for kids to burn off some energy between the wedding breakfast and reception, Low-Smoke Machines to cover the dance floor in a blanket of white smoke, LED Lighting to illuminate the grounds of the venue and Spark Streams to create dazzling jets of sparks indoors.