Hand-held confetti cannons are all you need to take your party to the next level. Kids, big and small, go crazy for a burst of colourful confetti.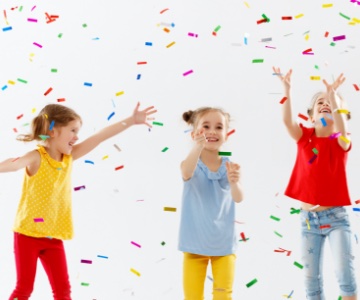 Think of a party and you probably think BIRTHDAY! Cards, presents, games, cake and… don't forget the confetti cannons!
With Happy Birthday sung, the candles blown out, three cheers and pop goes the confetti! Kids birthdays will never be the same again. You'll wonder why you didn't use them before and vow never to be without them again. Every party should have one!
They come in three sizes, 29cm, 50cm and 80cm to suit the size of the room you're in. Multicolour confetti cannons are the cheapest option and are loaded with a vibrant rainbow mix or for a personal touch, choose your own colour mix and we'll fill them for you.
Gold and silver are the obvious contenders with a cascade of dazzling glitter to mark the occasion in spectacular style. But why wait 25 years? Every anniversary is a cause for celebration!
Our glitter cannons now come in both traditional metallic confetti for use indoors or BioGlitter for sparkling events, indoors or out.
Corporate anniversaries are also popular with big names wanting to mark the milestones with a photo call, party or promotion.
B&Q gathered their workforce into the atrium of their HQ to celebrate their 50th anniversary and, following a message of thanks from the CEO, filled the space with confetti matching their corporate branding.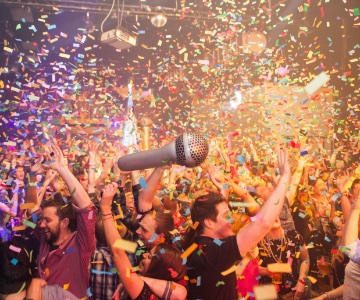 Many of our effects can be found in nightclubs, raising excitement levels throughout the night.
Smaller club nights find our Multishot Confetti & Streamer Cannons the perfect fit with no need for power or control cables. Simply sit them in position either side of the DJ and you have 4 or 8 shots of confetti to fire whenever you want a lift.
Bigger clubs use our Stadium Confetti Blasters and Turbo Confetti Blasters. These create awesome venue-filling confetti storms that flood the space with colour or glitter. These can be operated from the DJ position using a DMX desk or manually with an operator at each position.
CO2 jets shoot blasts of white vapour up from the stage, down from a truss or CO2 guns provide a hand-held option to shoot from the stage, into the crowd.
Our Hurricane Guns combine the thrill of a confetti cannon with the fun of a CO2 gun. These hand-held launchers looks the biz and shoot colourful confetti into the audience along with a cryogenic blast of vapour.
You will need CO2 cylinders to power these effects. These must be liquid withdrawal - bar gas won't work. Allow one large cylinder of CO2 for around 90 seconds of use per jet. This is enough for 30 x 3 second bursts for example. Speak with the venue as they can often arrange for a delivery of cylinders along with the bar gas. At 100kg each, you won't want to be carrying them around!
Spark machines are also popular creating a pyro style effect of silver sparks up to 5 metres high with a low hazard level and no smoke. DMX operated or remote controlled, they can provide a repeatable effect throughout the night from one fill of spark powder.
Confetti never fails to create a stir whether you are in a hotel ballroom, marquee or concert venue.
Generally, the brief is to go-big and cover everyone in confetti. It's a joy to watch as the guests dance around in the swirling confetti and of course, the photos look fab too.
But it's not just confetti we supply. With our crew on hand at The Roundhouse in Camden, spark machines and flame projectors added to the stage show to the delight of the guests.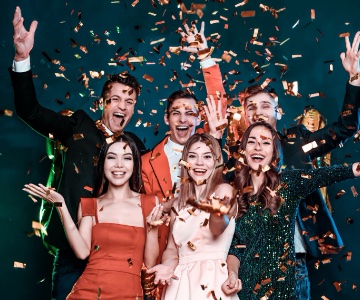 One of the biggest, if not the biggest party nights of the year. Everything builds towards the midnight moment and with expectations and emotions running high, it's important not to disappoint. Cue the glitter cannons!
As Big Ben chimes, shoot 12 volleys of hand-held silver glitter into the air for a truly spectacular way to see in the New Year.
Confetti cannon hire is particularly busy over New Year with restaurants, hotels, nightclubs and private parties all vying for the same equipment. It's our busiest time of the year and the only time when all our kit is out. So if you are planning a party, our advice is to plan ahead and reserve your cannons as soon as possible.
Having said that, we never run out of hand-held cannons, so we can always help, right up to the last minute.
There's nothing understated about a film premier. Limousines, red carpet, A-list celebs. Add to this theming, branding and special effects and you have everything you need to satisfy the media's lenses.
Our gas torches look every bit the part, lining the red carpet and creating an avenue of flickering flames leading to the venue where a pair of Gas Flambeaux displaying custom printed banners flank the entrance, topped with silver bowls of fire.
The entrance of the lead can be made all the more dramatic with the addition of CO2 jets and flame projectors.
As Robert Downey Jr. rose up on a platform surrounded by CO2 jets, the cameras clicked away with the photos splashed across the media the following day.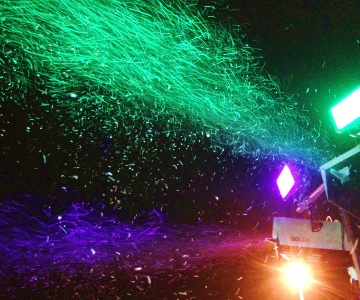 It's the time of the year when companies say a big thank you to their employees for all their hard work throughout the year. A time for people to have fun and enjoy the festivities.
Confetti Magic can help from the moment they arrive with snow machines positioned either side of the entrance to create a festive flurry of snow. We have several sizes available, all of which will run for a long duration on one fill to ensure that everyone gets to enjoy the experience.
For a fire & ice combo, add our gas flambeaux with Christmas tree banners to give a warm welcome.
Once inside, we can develop the sense of magic with low-smoke drifting across the floor to create a mystical feel, with illuminating colour changing LED lights adding to the mood.
Once the party is underway, our tried and trusted party pleasers are all ready to play their part. CO2 jets for frosty blasts onto the dance floor, twinkling silver sparks from spark machines and flurries of snow-fetti to transform the dance floor into a winter wonderland.
And to finish things off at the end of the night, an explosion of glitter to bring the celebrations to a triumphant close.