Confetti and special effects can play a vital part in this by combining strong visual imagery with an element of fun and excitement to thrill your audience and leave them with lasting memories.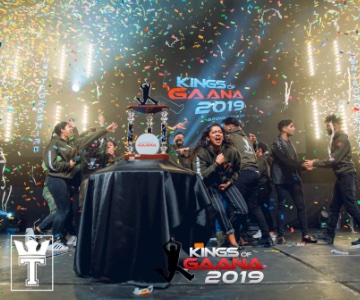 With the focus on celebrating achievement and success, confetti cannons are an essential accompaniment to awards ceremonies.
Whether it's just for the grand award or for every winner throughout the evening, a photo surrounded by cascading confetti captures the moment perfectly.
Remote Control Confetti Cannons are our most popular option, providing a spectacular shot of confetti on the push of a button. Easy to set up and operate with no prior experience, they are a firm favourite of production companies and with hire prices starting at just £120 + vat including delivery and collection, they are sure to fit with most budgets.
To repeat the effect for multiple winners throughout the evening, our Multishot Confetti Cannons provide 4 or 8 shots of confetti with no need for reloading.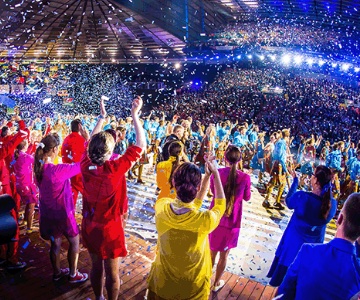 We can have a lot of fun creating a spectacular entrance for the host, whether they are the CEO, a VIP or celebrity.
CO2 Jets are great option to shoot across the stage entrance, forming a roaring cloud of dense smoke to walk through. Pyrotechnics add another level of impact with jets of sparks, comets, mines and flashes fired in fast moving sequences across the stage or, for a repeatable, non-pyrotechnic jet of sparks, spark machines offer a safer, smoke-free option that can be used throughout the event – as each winner makes their way to the stage for example.
If you have an idea in mind, we're happy to help you make it happen. We have fixed pyrotechnics to a guitar for the CEO of a well-known company to shoot as he strutted around the stage to 'We Are The Champions' and fabricated a flash-paper cinefilm strip that vanished in a sheet of flame as an alternative to the traditional ribbon cut at a cinema opening.
Another popular moment for a confetti launch is to announce the end of the formal awards element of the event and the start of the more informal gala evening.
This could be as the host signs off or as the band strikes their first chord. Either way, filling the venue with confetti is a sure-fire way to let everyone know it's time to get the party started.
With larger venues comes a bigger expectation and the need to create an effect befitting the space.
When faced with the brief to fill Hall 3 for the ICC with confetti (all 3050 square metres of it), our Stadium Confetti Blasters were the obvious choice for sheer power and volume. With 6 blasters positioned around the balcony, funnels pointing over the guests below, the push of a single button on the DMX desk signalled the launch of 60 kilograms of confetti in a little over 60 seconds. As spotlights swept through the ensuing confetti storm, the effect was simply stunning. And here's what it looked like from the audience's point of view.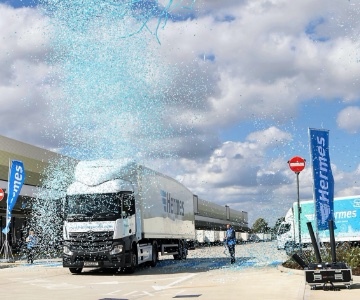 From a simple ribbon cut to open a new store in a shopping centre or the theatrical spectacular at the start of The Commonwealth Games, confetti is synonymous with opening ceremonies.
For smaller events, our hand-held or remote-control cannons are plenty big enough, firing confetti up to 12 metres. Positioned either side of the entrance and with confetti colours to match the company's branding, it is easy to achieve spectacular results even with a modest budget.
For a high-profile event, you may want to call in the experts. We have access to the very biggest cannons on the market and the experience to maximise their impact, taking into account positioning, firing angles and atmospheric conditions to ensure that the moment is every bit as spectacular as you imagined.
This again is an area where we can use our expertise to reimagine our effects and engineer a truly unique experience.
For the launch of SpiceBomb aftershave, we integrated our Powershot cannons loaded with Pixie Dust and ash confetti into the stand to give the impression that the grenade-shaped bottle sitting on top had exploded. This was accompanied simultaneously by a pyrotechnic explosion to produce a bang and a flash while a shot of silver confetti impregnated with the aftershave fired over the audience.
The result was stunning and to the surprise of all the guests, they were instantly surrounded by the fragrance, ensuring an exciting and memorable launch.
T-shirt launchers offer an unrivalled ability to generate a buzz in a crowd as your brand ambassadors launch your merchandise directly into the hands of your audience.
But don't just think, T shirts. We can fire beanies, flags, stress balls, sweets, scarves, soft toys and faux snowballs; in fact, anything soft that fit's down the barrel. If you have an idea, just give us a call or send us a sample and we'll give it a go.
Paddy Powers sponsorship of Brighton Pride saw Paddy's Angels firing rainbow pants into the crowd. They were such a success that they've made an appearance every year since.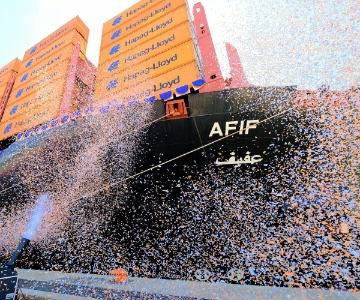 As well as being a celebration of the naming, the ceremony carries many traditions to bestow luck and fortune upon the vessel and those who sail in her.
Confetti has the ability to convey that emotion in a powerful and respectful way, surrounding the ship in a graceful cloak of colour. This makes for fantastic photo opportunities as the confetti flies high into the air.
Even the largest ships can be accommodated with Stadium Confetti Blasters lined up along the quayside to present a wall of confetti measuring 100s of metres long.
For the ultimate in event branding, custom confetti adds a unique opportunity to surround your audience with a spectacular explosion of cut and printed confetti featuring your message or logo.
We have produced confetti for major brands such as Moet and YouTube printed with hashtags, logos and more. Custom cut confetti and custom printed confetti are ideally suited to launches, rebranding and event sponsorship; or anywhere you want reach out to your audience in a fun and unexpected way.
Custom confetti for launching from our cannons is only suitable for larger events with the minimum order being 10kg.
Custom cut table confetti is available in smaller quantities to scatter on tables at gala evenings and exhibition stands.