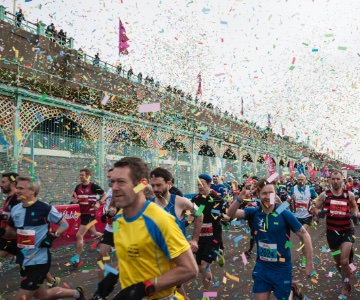 Each sporting moment requires a different approach, whether it's a boxer's ring walk, the players' entrance, half time entertainment or a trophy presentation.
For pitch-based sports, this needs to be debris free. Obviously, it's not a good idea to have pieces of confetti blowing around throughout a match.
Pyrotechnics and flame projectors lend themselves to this moment, providing high-impact visuals without any fallout. Creating an avenue of pyrotechnic fountains stretching out onto the pitch looks stunning with the players silhouetted against a curtain of silver sparks.
The fountains are rigged in two lines, spaced out at regular intervals, with protective boards underneath to prevent damage to the playing surface. A wireless firing system ensures all the units ignite at the same time and the de-rig takes approximately 60 seconds (with enough crew), to enable the game to start without delay.
Flame projectors are typically positioned to the side of the pitch, flanking the players' tunnel, with a 3m safety zone around them marked out with barriers. Jets and fireballs are triggered using the controller with chases possible across multiple flame heads.
Our experience of boxers' ring walks is rather more varied with our development of pyrotechnic flash screens.
These are made from sheets of flash paper that vanish in a sheet of fire, leaving no ash and with very little smoke. Ignition is via pyrotechnic gerbs (jets of sparks) to add to the drama.
An image can be projected onto the screen before it vanishes to reveal the entrance for the boxer.
Add to this CO2 jets, flame projectors and low-smoke for a high-impact entrance.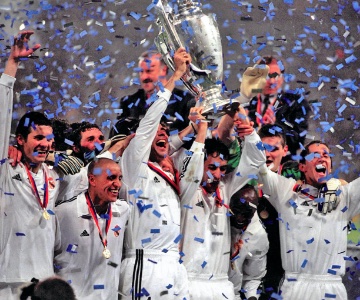 The photos of the winning team surrounded by confetti may look a million dollars, but it doesn't have to cost that. There's no excuse not to surround the winners in a blaze of colour and glory when hand-held confetti cannons are available to fit any budget.
For smaller everts, hand-held cannons are ideal, providing a spectacular yet cost effective photo opportunity. The cannons can be custom loaded with team colours or a celebratory burst of glitter confetti to mark the moment in style. Prices start at £6.95 for small cannon plus P&P.
For bigger events and where a quick set-up following the end of the game is required, our Remote-Control Cannons fit the bill perfectly.
With no power or control cables required, the cannons are simply placed into position behind the winners' podium and triggered using a wireless remote control. Choose from tissue confetti, metallic confetti or streamers for spectacular results every time.
For a sustained effect, use Multishot Confetti Cannons to create repeated waves of colour. Control multiple units from one controller to maximise the scale and intensity.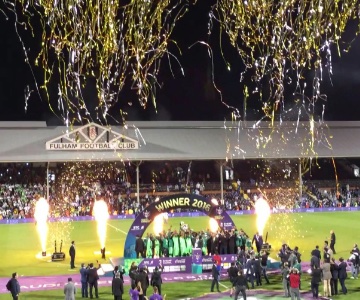 Sports stadiums require our biggest cannons to create an effect worthy of the size of the venue. Not forgetting the requirements for quick installation and power-free operation (you don't want to be dragging power cables across the pitch), Stadium Confetti Blasters and Stadium Duo Streamer cannons both offer wireless operation and phenomenal power.
Stadium Confetti Blasters use CO2 to blast vast clouds of confetti into the air to surround the podium and players. They can be triggered wirelessly and automatically feed 10kg of confetti into the jet of air for a duration of up to 90 seconds. Two blasters are usually sufficient but more can be positioned around the stadium to simultaneously fill the whole venue.
Stadium Duo Cannons are a double-barrelled unit designed to shoot thousands of streamers high into the air on the push of a button. Frequently used to coincide with the initial lift of the trophy with the Stadium Confetti Blasters following on afterwards.
For the ultimate, high-impact presentation, add a line of flame projectors behind the podium to pulse fireballs and jets of flame, again all wirelessly controlled for a super-fast set up.
Undoubtedly, confetti creates the bigger effect and a fantastic sense of celebration but there's no getting away from the fact that it does take a while to clean up. Where a stadium is required for another event shortly afterwards, streamers are visually striking and a lot easier to pick up in a matter of minutes if necessary.
More and more events are opting for streamers as a good compromise between impact and ease of use.
Both confetti and streamers are made from biodegradable tissue, for use both indoors and out, and come in a wide range of colours to match the sponsor's or team colours. We also have BioGlitter confetti to add a sparkle to your event.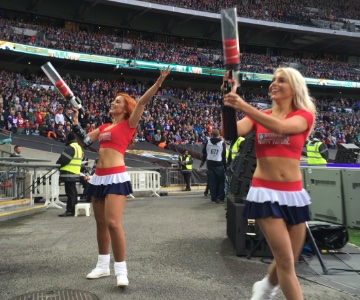 Engaging the spectators in a fun and memorable way is an essential part of a sponsor's involvement. T-shirt cannons are ideally suited to both pre-match and half-time entertainment with groups of brand ambassadors launching giveaways directly into the audience's hands.
But it's not just T-shirts that we can launch. We have fired flags, stress-balls, soft toys, scarves and beanies.
And it's also not just limited to once or twice an event. With the likes of gymnastic and NFL, we operate throughout the day, in-between sessions or whenever there is a gap that needs filling.
T-shirt cannons can be dry-hired or we provide a fully operator fired service.
The celebrations don't need to stop in the stadium. A victory tour is essential to thank the fans and a stream of confetti in the team colours surrounding the cheering onlookers makes a picture perfect subject for media photos.
Hand-held cannons are great fun for the team to fire from the top deck of the bus or Stadium Confetti Blasters bring the spectacle of the stadium to the streets of your home town.