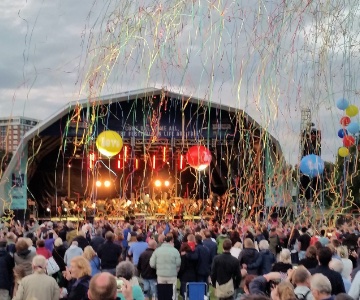 Confetti raises the energy level like nothing else, so don't just leave it to the grand finale. With our confetti and streamer cannons, you can repeat the effect as many times as you like. Your audience will scream for more every time and you can always keep our unique BioGlitter confetti 'til last to make the finale dazzlingly different.
Festivals come in many shapes and sizes, as do confetti cannons, so whatever the scale of effect you are looking for, Confetti Magic has the solution.
Remote Control Confetti Cannons are the easiest and most versatile option to create a shot of confetti during a band's set. They are powered by an internal rechargeable battery so no external cabling or power is required.
Single Shot Cannons are perfect for an opening or closing shot of confetti, shooting a burst of colour to 12 metres. The cannons can also be loaded with streamers, increasing the range to 25 metres. For a bigger effect, multiple units can be positioned around the stage and triggered from the same wireless remote. Prices start from £120 + vat for a pair of cannons, including delivery and collection.
For repeated shots, Multishot Confetti & Streamer Cannons allow for 4 or 8 shots to be preloaded and fired as required, either at separate moments throughout a set or in quick succession as a grand finale. Prices start from £340 + vat, including delivery and collection for a pair of cannons.
Turbo Confetti Blasters have a number of unique characteristics. Being fan powered, they don't require cylinders of CO2 to power them, they can be repeated as many times as you like throughout the festival and they offer more eco-friendly credentials than some alternatives.
On the down side, they are not as powerful as CO2 Confetti Blasters so are better suited to medium stages and dance tents.
Once in place, simply switch them on and feed in the confetti for sustained and repeatable confetti effects. Hire from £250 + vat per week plus confetti & delivery.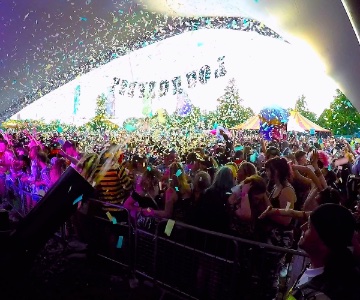 The most powerful confetti cannon in our arsenal, CO2 Stadium Blasters are what you will see at all the big festivals for all the main acts.
They are powered by CO2 cylinders to each launch 10kg of confetti in around 90 seconds. One positioned either side of the stage will generate a huge effect, but line up 6 blasters along the front of the main stage for a truly immense confetti storm.
Once loaded, the cannons are operated by DMX to provide split second timing and consistent performance across each and every unit. Hire from £150 + vat per week plus confetti, CO2 & delivery.
Streamers are excellent at adding impact to a big moment, whether that's the opening of the festival, a key point in a song or the final crescendo of an encore.
On the push of a button, thousands of comets are released, trailing coloured tails over the audience. The speed the comets are released adds to the impact as the air is instantly filled with colour.
Smaller cannons will shoot streamers 25 metres while Stadium Duos will shoot streamers a colossal 40 metres. Any of our remote control options above will shoot streamers or contact us for a Stadium Duo quote.
Outside, the main factor that determines which direction and how far the confetti goes is not where you position the cannons, but which way the wind is blowing. With the wind blowing from the audience to the stage, it doesn't matter how powerful the cannons are, the confetti will still blow back onto the stage.
With a favourable wind, the confetti can drift for 10s if not 100s of metres.
Shots effects tend to come off the stage or truss while blasters are usually on the ground in front of the stage.
You certainly need some cannons on or either side of the stage, but you can also consider positioning cannons at the front of house position to give you a better chance of covering more of the audience, whichever way the wind is blowing.
We have many biodegradable options to suite your requirements. Biodegradable tissue confetti comes in a wide range of colours and can be mixed in any combination to fit the moment. It is suitable for use in any of our cannons.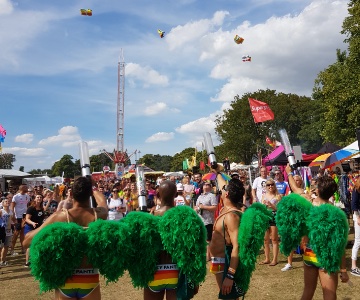 BioFetti is water soluble so will simply wash away with the first rain – but be careful as it is so water sensitive that it can't be used in wet weather, it will start to dissolve in mid-air! Used in a dance tent or on a hot sunny day, it is the perfect choice for sensitive sites. It is more fragile than tissue confetti so is not suitable for use in CO2 Confetti Blasters.
BioGlitter is the latest addition to our range and is also tissue based and fully biodegradable. For the first time ever, you can now launch a cascade of glitter over your audience and fill the sky with a million sparkling lights.
In dry weather, biodegradable tissue confetti will take time to disappear, but rest assured, it will vanish completely with a little help from Mother Nature. Used on a wet site, it will get trodden in and will disintegrate in minutes. BioFetti will melt away on contact with water so will be gone much sooner, but as previously mentioned, it can't be used in the rain.
There are plenty of other Special Effects to add impact and excitement to a performance.
CO2 Jets shoot plumes of white vapour to 8 metres to create a wall of smoke across the front of a stage. Although the smoke itself cannot be coloured, it will glow with whatever coloured lights are shone onto it. Considered to be low hazard, jets can be fired down from a truss, onto the stage or over an audience. CO2 jets are £75 + vat each to hire, excluding gas and delivery.
Spark Streams provide a pyro style effect with a lower hazard level and virtually no smoke compared to traditional pyrotechnics. The sparks are of a lower temperature, so much so that you can wave your hand through the jet. You still need to observe safety distances to the audience and flammable materials, but the risks are more manageable. Spark Streams are £200 + vat per pair to hire, including spark powder. Delivery is extra.
Flame Projectors shoot jets and fireballs on larger stages and outdoor venues. As a live flame effect, safety distances are critical and these are not suitable for smaller stages, but the effect is impressive and adds a strong visual to the performance.
The flame projectors are waterproof, can be wirelessly controlled and contain their own gas cylinders so can be positioned on the roof of a stage or in remote locations. Please contact us for a quote.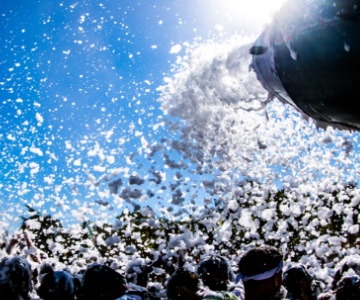 Jet Foam Cannons - the ultimate crowd pleaser. Feeling a little grubby after 3 days in a field? Our Jet Foam cannons can shoot a stream of foam to over 10 metres. They are suitable for use indoors in a dance tent, outdoors or mount them on a vehicle and you have a mobile foam bath. OK, it might not get you clean, but it's a whole lot of fun!
T-Shirt Cannons were made for big arena crowds, and a huge festival audience is no different. Your sponsor can now reach out to the audience in between acts as the stage is re-set for the next. Armed with our cannons, your promo staff can entertain whilst getting your product or message into the hands of your target audience in a fun and memorable way.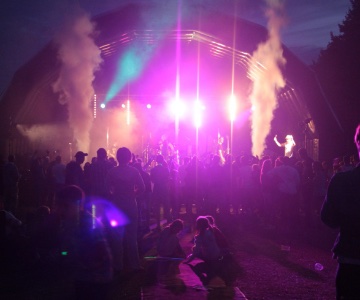 The CO2 gas cylinders that power CO2 Confetti Blasters and CO2 Jets are very heavy – 100kg each. Delivery to site needs to be carefully managed. A CO2 blaster will use one cylinder per 90 second blast and this can be brought in for a single use and positioned next to the unit.
CO2 jets use rather a lot more, with each jet requiring a cylinder for 90 seconds of use. In practice, this is typically fired as 30 x 3 second blasts for example, and can easily be used in one set.
It may be possible to use single cylinders for one off use, but for repeated use throughout the festive, it is better to have manifolded gas cylinders delivered pre-event. These would be delivered by the gas supplier to site and would need moving into position using a forklift or loader. A manifold holds 15 cylinders and weighs in at 1800kg.
Reducing the environmental impact of live events is vitally important to everyone and we want to play our part.
Where we can avoid using CO2 cylinders to power our effects we will. Many of our cannons use fans or compressed air to launch the confetti.
Where it is unavoidable – CO2 Blasters and CO2 Jets, we offset the CO2 through the Woodland Carbon Scheme run by The Woodland Trust.